Will you be my At the alter and thru the craziness of wedding planning, friend, confidant and by my side girl? AKA bridesmaid?
Those were the words that began the email which I sent to the nine wonderful women that will stand beside me. Yes, you read correctly N-I-N-E.
I tried for the longest time to come up with a cute way to ask my bridesmaids to be a part of our wedding party and it was a major fail. I know these ladies. We've grown up together, laughed together, cried together and there was no card (hand made or store bought) that would ever be able to express how fortunate I feel to know them all. I used to host an annual girl's night out and invite all the girls to come into New York, stay at a hotel my treat, and go out for a night on the time. They are those type of friends.
Four of the nine I've known my entire life. We are family. I have one sister but was raised amongst many first cousins, close in age, close enough to feel more like sisters. I've known 2 of the remaining five girls for 20+ years and 1 for 18+. These women have been my very best friends for as long as I can remember. The next of the ladies, I proudly stood beside as her Maid of Honor one week from today. We met in college but quickly became the best of friends. Mr. Charming's sister rounds out the ninth addition of the group.
My posse roles deep! (Sorry I couldn't resist).
I quickly realized that I became the Bride I advise my clients not to be. To be honest, it's partially Mr. Charming's fault. Remember I mentioned he was an athlete? Well his friendships span 30 years and he was inviting EVERYONE to be a part of our day. Then reality struck. Large bridal party=Large expense and contrary to what I'd like to believe, we are not made out of money.
There would need to be some tweaking.
We decided (ok, I decided)early on in the planning process that we will not get married at the foot of a traditional aisle. This union is about our family and we want them to play a very active role in the entire event. Instead, we will either get married "in the round" or in a square configuration, surrounded by the people we love the most. My major concern with our large group, (we are at 20 including us) is that having 25% of the attending population, standing in a tiny space would look utterly ridiculous. But being in the wedding party they will obviously walk down, because that's just what you do.
Our compromise? Everyone will enter (my fab girls escorted by the groomsmen) and at the "foot" of the aisle separate and go to their seats. They will stand remain standing until I enter and be seated with the rest of the guests. Dilemma 1 solved.
Example of
ceremony seating
courtesy of my friend and colleague Juliet of
Green Orchid Events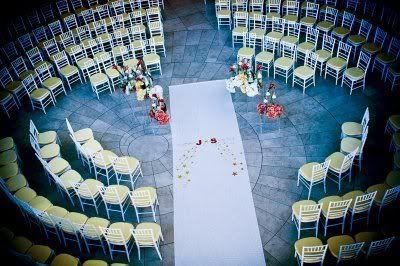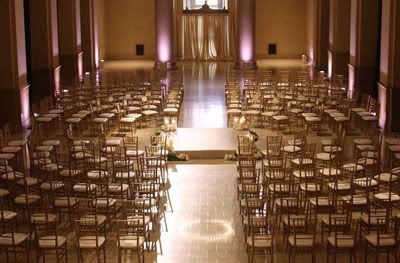 Issue #2. Floral costs. So.... 9 girls + 2 mothers + 9 groomsmen + 2 father figures + 2 ushers= ALOT of flowers. I always knew that I was not totally wowed by the idea of bridesmaids bouquets. Don't get me wrong they are lovely, but nothing hurts my heart more than setting them aside shortly after I remove them from the girls lined up during my couple's first dance, to go keep the cake company. I just knew I could not do it. I haven't exactly figured out if I will be substituting another object in the absence of the florals,I'm considering these fluerette cocktail rings (picture below) but for the time being, I have total faith in my ladies being able to keep their hands occupied during the ceremony. I've never understood the logic anyway. Dilemma #2 solved.
Fluerette Rings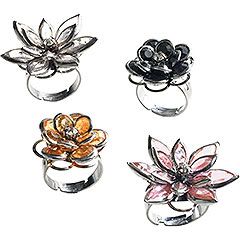 Issue #3. Rehearsal Dinner. 30 people. Need I say more? Luckily Mama Charming has graciously offered to take care of this and we happily accepted. Dilemma #199 solved.
And because I would never tease you and end a post without atleast showing you what the girls will be strutting in...here you go.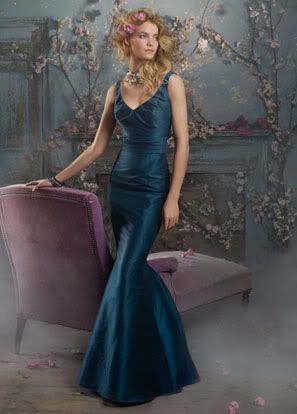 (
Jim Hjelm Couture Alvina Valenta
)