As we prepare ourselves for the close of our season with seven weddings left for the year, I've been knee deep in timelines. Make that waist deep.
In the area I'm pretty well known for my timelines. Upon initial glance, they look utterly ridiculous.
Seriously, I know this
. I always distribute them to the vendors with the caveat to scan for your name and confirm only those items. An average event timeline for us is about 9 pages and can go anywhere up to fifteen. A few years ago, I had a limo driver, whom apparently provided transportation for quite a few of our couples, come up to me and say I always smile when I see your timeline, I know I'm working with you and exactly what we're going to be doing.
Mission accomplished.
We've developed our timeline so that everyone, every single player on our vendor team, knows what is going on that day. Though we are there to facilitate the day, I figure maybe, just maybe, it would help to have an overview of the day that everyone can have access to, just in case. I know I would appreciate it if I was the photographer knowing that the videographer is arriving half an hour before my scheduled arrival, who they are and where they are going first, just in case I want to coordinate with them. I also know that the venue coordinator probably would like to know if they florist plans on coming for setup earlier than initially anticipated and will be making multiple trips during the day and grandmom's corsage will be left on the second trip, just to make my job easier.
I know I'm one of the few in the area, probably the industry, who do things this way and it's totally ok with me. I've seen some of my colleagues timelines and they range about 2-3 pages and
I.Die
. As a coordinator, it is a touchy topic though because you don't want to offend anyone or make them believe that you think they are incapable of executing a perfect event. It's what we specialize in. Instead, the vendors that actually get it, appreciate that they do not have to coordinate the "behind the scenes" as it is in writing exactly what the couple expects and they are able to confirm it is what they deliver. It's a win, win for all.
So, if you are preparing a timeline absent of a wedding coordinator,first call me we'd love to help. If that doesn't work out, here are the must haves for your document:
Name/Contact number for all parties involved
Arrival time (and conclusion time) for all of your vendors
Pickup/Drop Off locations for transportation
Prepping locations for the bride and groom
Ceremony program order
Reception timeline (general) including names with phonetic spellings and songs for formalities
Name of individual responsible for taking items home
Contact individual name and number on the day of.
Also include with your timelines copies of all the day's must haves as last pages. This includes directions to your venue, floorplan, checklists, etc.
Sample of our timelines (excuse the sloppy, ahem, "working" desk area):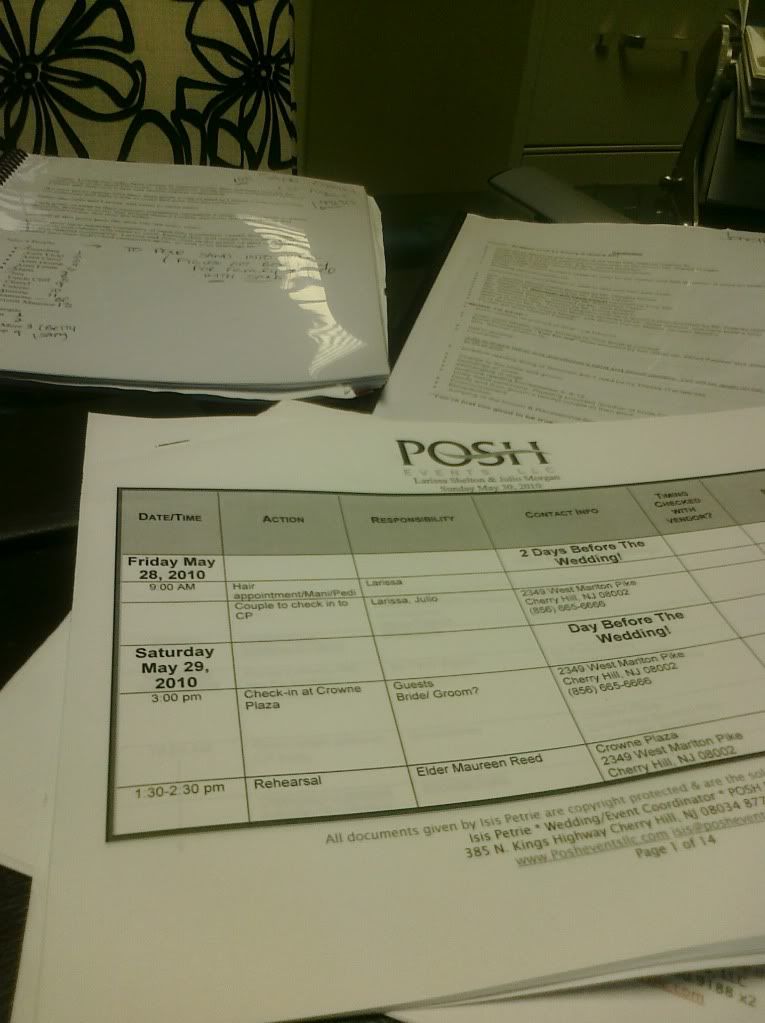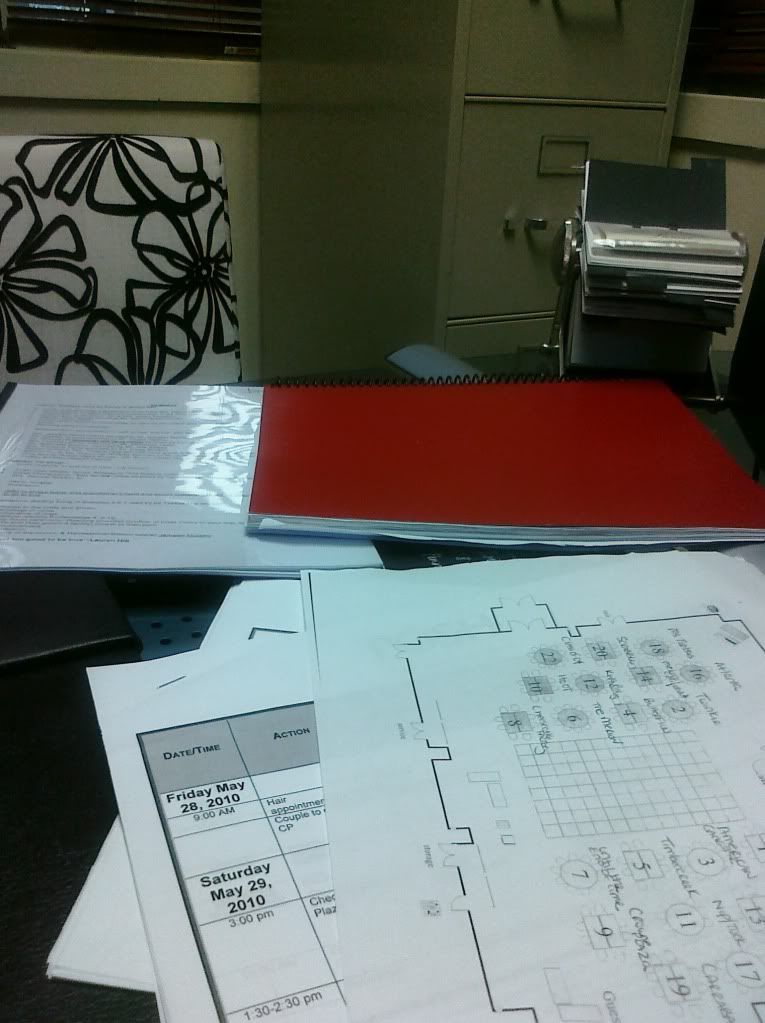 I'm hoping this post helped some of you brides and grooms who are in the process of putting pen to paper. The best thing I can advise is when in doubt, write it down. Second best, call us! We'd love to help.