I'm not one for superstition. Mr. Charming and I are seeing each other the night before. We're are seeing either other prior to the ceremony. He has seen my dress. Although I actually wanted him to come with me on the shopping trip, he didn't because it's where he drew the line. He would like some element of surprise and I'm ok with that.
But traditional I pretty much am not.
The hunt for the perfect dress was a short one. In fact, it took about 10% of the effort it took to find my shoes.
My first stop on the journey was Country Way Bridals in Haddonfield, NJ. The ladies over there are fabulous and it was where I ultimately selected my bridesmaid dresses. It was there that I met my first love: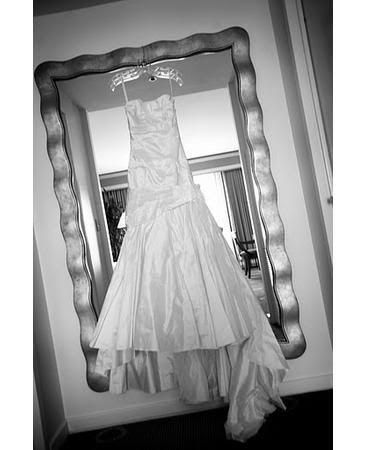 Melissa Sweet Mila (Source www.preownedweddingdresses.com)
I adored her from afar for days. I contemplated the purchase mainly due to budget. Although pricewise she was within my dress budget, logically, I just couldn't wrap my head around the cost of the dress. Something I'd only be wearing for 10 hours of my life. (Says the women with $835 shoes). A little crazy?
Maybe
. But I couldn't, so I moved on.
The next stops were pretty much all of the local bridal salons within a 30 mile radius and a few on a random trip to New York. Verdict? Ehh.
I found myself running into the same problem. The dreaded bridal sample gown.
A few things never worked in my favor. #1 Height. I'm a little under 5' 2". There is no podium in the world that will make me look like anything other than swallowed in a dress made for someone seven inches taller.
#2. Well endowed. I have a fairly petite frame, but am quite generously endowed in areas. The bottom half of my bottom is comfortable in an 8. If I was interested in seeing how half of the dress looked, I would have struck gold.
#3. Lack of imagination. I'm just not one for imagining how a dress is going to look. I need to actually SEE it to get the feel.
----I wanted to take a minute to let you in on something I forgot to mention at the beginning of the post. I went shopping by myslef. GASP. I know---
After about two weeks time, one Saturday I ventured into Kay Bridal in Maple Shade, NJ. I've passed the salon a million times as it's off of a major highway I frequent. That day I figured, what the heck and went in.
I had an amazing experience. First, there was no rushing. There were many brides there but my saleswoman took great care of me. Two, they had the dress that met all of my requirements:
One shoulder, comfortable, affordable, sophisticated yet not over embellished. Oh...and buttons. I am a sucker for a wedding gown that buttons down the back.
When we entered the fitting room, the consultant took one look at the gown and said-that one is yours. She encouraged me to try on the others that we had already grabbed but reiterated, it's this one. She was right.
So, without further ado, internet meet my Maggie. Fiorella is what I call her.
Source (
Recycled Bride
)