As you grow in the wedding industry, you quickly notice a trend in the "company" you keep. As you become more comfortable with publicly admitting you are addicted to all things wedding, quite naturally you begin to gravitate towards other like-minded and obsessed people aka wedding coordinators.
I'm fortunate in that over the last few years this business has fostered some of the most incredible relationships in my personal and professional life. From brides to vendors to people I now call friends, as I've evolved I've met great contacts along the way.
This weekend I took a much needed drive down to Baltimore to visit my colleague and friend Lakendra Kennedy of
Affairs with Elegance
for two days of business, eating, relaxing and of course shopping! I couldn't have picked a more perfect time to go because the weather was absolutely gorgeous!!!!
It's always nice to see weddings from the perspective of another market. Though not far, Maryland and NJ/PA certainly do things differently. During the trip, I was fortunate enough to meet up with some of my "virtual" Coordinator counterparts from my online networking forum.
11 Coordinators from all over the country, great weather and lots of mimosas...what could be better?
Below are a few pictures from my visit courtesy of some of my new friends!
Liene Stevens, Myself, Lakendra Kennedy and Laura Auer
And here's the entire group! We thought it would be fun to do an "old school" bridal party along the stairs shot. The waiter was a little confused however.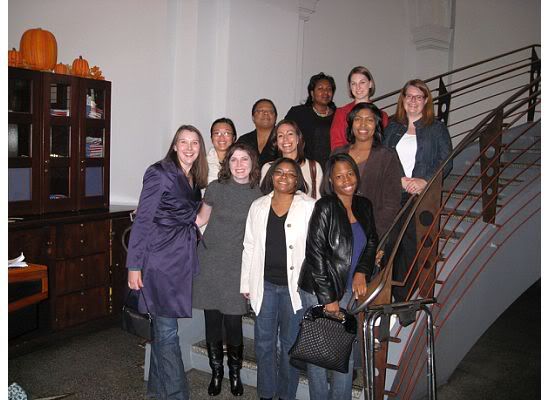 Front Row:
Sara Bauleke (Bella Notte),
Liene Stevens (Blue Orchid Designs),
Andrea Hansborough (A&H Events)and myself
2nd Row:
Vicky Choy (Event Accomplished),
Kawania Wooten (
Howerton+Wooten Events
) Maria
Cooke (Ritzy Bee
),
Lakendra Kennedy (Affairs with Elegance)
Back Row: Letetia Nicole (Simply Beautiful Concepts),
Laura Auer (Wish Special Events)
,
Stephanie Aspinwall (Ayr Hill Events)