Last night I attended a networking event for the Association of Professional Event Designers at the TD Bank Executive Conference Center (Formerly Commerce Bank Executive Center) in Mount Laurel, NJ. The meeting featured a presentation by Mark Kingsdorf of The Queen of Hearts Wedding Consultants, entitled "going green now without losing the WOW!" and was quite informative.
I personally feel that over the last year both in my home and professional life I've made a real effort to
infuse
environmentally friendly and socially conscious items into everyday habits. Not only have we adapted a number of methods in the office to reduce the paper and energy we utilize, we often consult with our Clients on ways to incorporate touches to reduce their carbon footprint throughout their events.
After years of driving past the University, I was certainly looking forward to an "after-hours" view of the event space potential. I must admit, I really did like the "canvas". Though not ideal as a Wedding venue in my opinion, I feel like the contemporary feel of the space lends itself very well to hosting a modern social or corporate event. From the magnificent glass stairwell to the illuminated red pillars and humongous trees in the foyer, upon entering the space I certainly had a wow reaction. (Sidebar: I really miss the signature red of commerce bank. Is it me or does the green just not seem right?)
Of course I carried my handy camera to share pictures throughout the night:
This photo was inspired by a Wedding Coordinator colleague of mine who always documents her meals. I thought it would be fun to snap a shot of the awesome food prepared by Andreotti's Viennese Cafe (The salad was to die for!)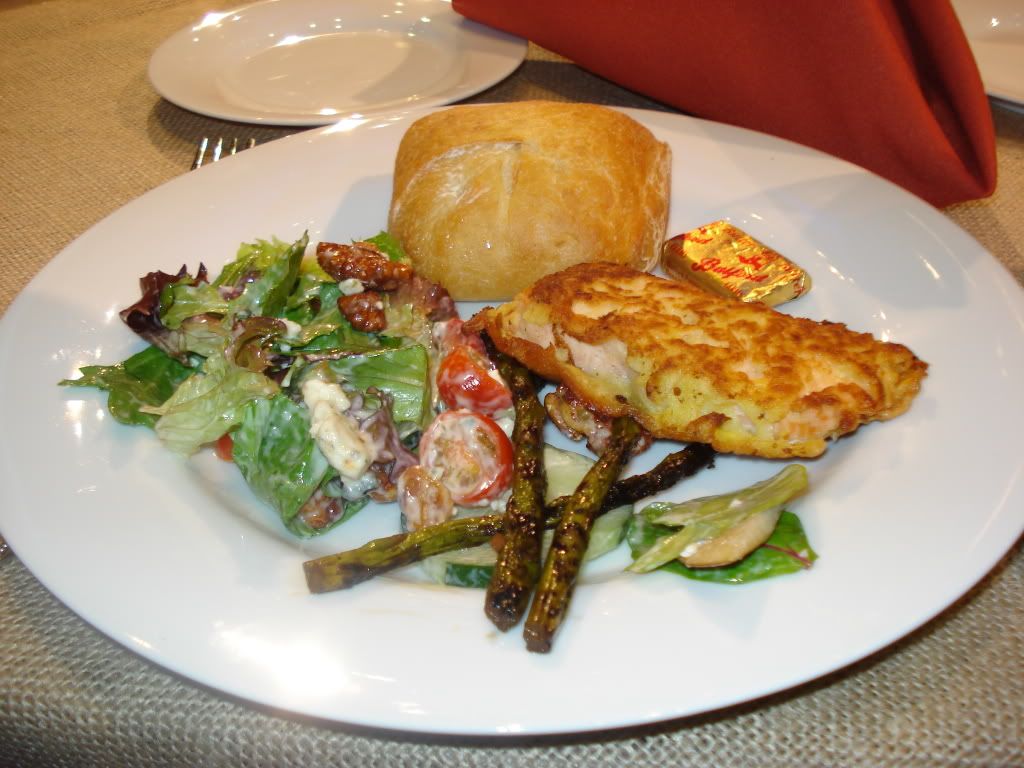 A little blurred...but here is a shot of Christina Lupo of the Queen of Hearts Wedding Consultants and Denise Herker with Leigh Florist.
Lobby entrance
Meeting space
If you're looking for a unique venue to hold your event, I would definitely stop by and take a peak. The architecture of the building is gorgeous.